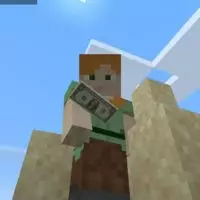 Money Mod for Minecraft PE
Version MCPE: 1.4.0 - 1.20.41
Download
Download Money Mod for Minecraft PE: use new opportunities for trading and exchange in the cubic world.
What is interesting in Money Mod?
Emeralds are currently used for calculations in Minecraft PE. That is, players must first find reserves of this mineral, extract it and only then use it.
Money Mod simplifies this process. The game will feature banknotes and coins from different countries and even a unique fictional currency. Players will be able to use it to buy various goods and services from the villagers.
This will not only diversify the gameplay, but also come up with role-playing games with friends. Players will get new opportunities for development and trading, and will also be able to have a great time in their favorite game.
Notch Money
This update for Money Mod was named after one of the main developers of Minecraft PE. The authors completely replaced the emerald blocks and ore with brand new ones with an image similar to a dollar sign. They are perfect for building a bank or other financial institution.
The gems themselves will look like green bills. They can be used to pay for goods and services from the villagers.
Minecoin
With this update for Money Mod, players will have real and fictional bills and coins at their disposal. Users can choose from currencies such as dollars, euros, or pounds, as well as minecoins.
By the way, the latter is currently used directly inside Minecraft PE. For Steve to have funds, he need to use the commands. For example, enter /give @p minecoins:100_euro.
In addition to cash, players can also use a credit card.
Plus
This universal add-on for Money Mod will allow players to use euros for payments inside the game. Banknotes and coins with different denominations are provided.
To be able to use them in Minecraft PE, just enter the command /give @p money: and then select one or more options.
How do I install this Money Mod?

The file is in .mcaddon extension, so just tap on the file to automatically install the modification.

Can this mod be run in a multiplayer game?

Yes, for this it is enough just to be the owner of the card and install this modification on it.

What if the mod does not work?

Try to activate the experimental game mode.
Download Money Mod for Minecraft PE