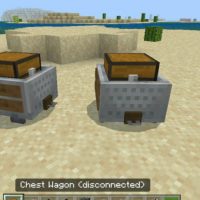 Minecart Mod for Minecraft PE
Version MCPE: 1.17.0 - 1.20.15
Download
Download Minecart Mod for Minecraft PE: upgrade standard objects and make them dangerous for everyone who gets in their way.
What is interesting in Minecart Mod?
Minecraft PE players often use trolleys to move cargo in caves or on the surface.
With the help of Minecart Mod, it will be possible to expand the capabilities of these items and make their use even more interesting.
Dangerous
The authors of Minecart Mod have made the trolleys deadly for anyone who gets in their way. They deal damage of 20 units to both mobs and players.
This is a great option for those Minecraft PE users who create various maps.
MineCars
With this update for Minecart Mod, players will have the opportunity not only to transport a wide variety of goods over any distance. Now it will be possible to create incredible structures and mechanisms.
Some of the instances can move without rails at all, so Minecraft PE players will have full-fledged transport. The authors call their creation a real industrial revolution.
Refueling and functions
For the new object to come into motion, you will need to refuel it. This can be done with the help of fuels such as coal or lava. Moreover, the better its quality, the longer it will work.
In Minecart Mod, new objects have several important functions. In addition to the fact that they drive in Minecraft PE without rails, they can still be tied with a leash, repaired with iron ingots, and tied to them with ordinary trolleys. If the surface is uneven when moving, it will tilt.
Trolley options
At once 11 types of various devices for moving and transporting goods are offered by the authors of Minecart Mod. In addition to the options familiar to players with a chest or a classic empty one, which look updated and more convenient, other functions will be available.
For example, to quickly extract valuable resources, you can use Groundbreaker, which has a large drill in front. Minecraft PE players can also use trolleys to attack enemies, an instance with a cannon or a spike shovel is suitable for this.
How do I install this Minecart mod?

The file is in .mcaddon extension, so just tap on the file to automatically install the modification.

Can this mod be run in a multiplayer game?

Yes, for this it is enough just to be the owner of the map and install this modification on it.

What if the mod does not work?

Try to activate the experimental game mode.
download anchor
Download Minecart Mod for Minecraft PE