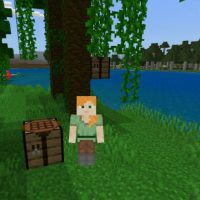 Crafting Mod for Minecraft PE
Version MCPE: 1.14.0 - 1.19.63
Download
Download Crafting Mod for Minecraft PE: use new equipment to create unique items and restore used ones.
What is unique in Crafting Mod?
With these updates, players will be able to create new unusual items that are not available in the standard list. Moreover, it will be possible to do this quickly and without unnecessary expenditure of resources.
Minecraft PE players are well aware that certain objects can come in handy at various points in survival mode. By the way, with the help of Crafting Mod, it will be possible to use the reverse crafting system and return the desired items.
Reverse Crafting
To create a reverse crafting table, players need to use a workbench. Next, it will need to be placed in the center, and four blocks of quartz and obsidian will be placed around it.
Using a new device in Crafting Mod, you can return items that were used when creating an object. It is worth noting that the process is available for any tools except wooden ones.
And it will also be impossible to make a refund for chain mail and leather armor. However, for most elements in Minecraft PE, this process will be possible and it will be an absolute novelty for all users.
Forever SMP
Thanks to this update, players will have the opportunity to create items that are not available in the standard version and can only be obtained by exploring the world of Minecraft PE. Do not waste precious time on long searches.
With the help of Crafting Mod, heroes will be able to craft a golden apple or armor for a horse, as well as gunpowder. In the oven, it will now be possible to turn rotten skin into ordinary. The authors understand how valuable the time spent in the game is and therefore have created a wonderful update.
To make it easier for players to get the necessary items. It is enough just to collect the usual resources and it will be possible to start a unique process.
How do I install this Crafting Mod?

The file is in .mcaddon extension, so just tap on the file to automatically install the modification.

Can this mod be run in a multiplayer game?

Yes, for this it is enough just to be the owner of the card and install this modification on it.

What if the mod does not work?

Try to activate the experimental game mode.
Download Crafting Mod for Minecraft PE