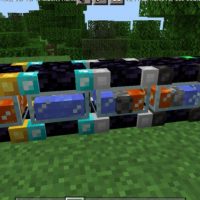 Cobblestone Generators Mod for Minecraft PE
Version MCPE: 1.12.0 - 1.20.15
Download
Download Cobblestone Generators Mod for Minecraft PE: decorate the cubic world with updated versions of standard blocks, as well as use new armor.
What is interesting in Cobblestone Generators Mod?
It is the cobblestone that is one of the most commonly used blocks among Minecraft PE users. Indeed, there is quite a lot of it in any cave and there are an infinite number of options for its use.
But the authors of Cobblestone Generators Mod still figured out how to update the textures of this block, and also offer players to try on new armor from it.
Also, special generators will appear in the game, which will help to process these objects faster.
Armor
For those Minecraft PE players who would like to somehow change the appearance of armor in the cubic world, the authors have created this update for Cobblestone Generators Mod. Now, instead of a chainmail set, a cobblestone option will appear.
At the same time, all protective properties will remain the same. Also, as a nice addition, the creators have changed the textures of the shield.
Improved Cobblestone
To improve the external characteristics of one of the most popular blocks in Minecraft PE, the authors decided. This time they managed to make the cobblestone clearer and brighter.
Thanks to the Cobblestone Generators Mod changes, it will be much easier to find the right elements in the dark cave. This is a great help not only for beginners but also for experienced users of the cubic world.
Generators
After installing Cobblestone Generators Mod, you will be able to find five new blocks in the Inventory of the Creative Mode of Minecraft PE. They are special devices, in other words, generators, which help to process cobblestones.
They are made of various materials, but they are all familiar to any user of the cubic world. These are iron, gold, emerald, diamond, and netherite. Depending on the material, the amount of time it takes for the device to perform actions will change.
One of the sides of the block is intended for storing the manufactured resource. It is to her that you can substitute a chest for collecting.
How do I install this Cobblestone Generators Mod?

The file is in .mcaddon extension, so just tap on the file to automatically install the modification.

Can this mod be run in a multiplayer game?

Yes, for this it is enough just to be the owner of the map and install this modification on it.

What if the mod does not work?

Try to activate the experimental game mode.
download anchor
Download Cobblestone Generators Mod for Minecraft PE