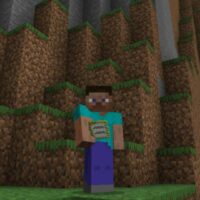 Banners Markers Mod for Minecraft PE
Version MCPE: 1.19.80 - 1.20.41
Download
Download Banners Markers Mod for Minecraft PE: use a special feature that will allow you to find locations on the map faster.
Banners Markers Mod for Minecraft Bedrock Edition
The world of Minecraft PE is so huge that players often get lost and cannot find the location they are interested in. The authors of Banners Markers Mod decided to come to their aid and created the opportunity to put marks on maps.
You can do this with the help of ordinary banners, which are available in any Inventory of the Creative Mode. The main thing you should not forget when installing this update is that Experimental settings should always be enabled for it to work correctly. Be sure to try this new feature right now, it greatly facilitates the gameplay.
Banners Markers
This add-on for Banners Markers Mod, as it becomes clear from its name, allows you to set marks on the map in Minecraft PE.
The mechanics of using it are quite simple, you will need a map and a banner. Now it will be easier for players to find certain locations in the cubic world.
Map Markers
Previously, this feature was only available in the Java version of the cubic world, but thanks to the efforts of the authors of Banners Markers Mod, it can also be used in Minecraft Bedrock Edition. It consists of the fact that when absolutely any Flag is set, a mark will appear on the Map.
This will be especially useful for those players who participate in mini-games or PvP competitions.
How it works
The mechanics of using Banners Markers Mod are quite simple. First, you need to set any Flag on the surface. After that, just take a card and use it on the Flag. Next, look at the map, a random color mark should appear on it.
To delete it, you need to repeat these steps. You can do this an unlimited number of times to get the desired color. Use the new features in Minecraft PE and make the gameplay even more interesting.
How do I install this Banners Markers mod?

The file is in .mcaddon extension, so just tap on the file to automatically install the modification.

Can this mod be run in a multiplayer game?

Yes, for this it is enough just to be the owner of the map and install this modification on it.

What if the mod does not work?

Try to activate the experimental game mode.
Download Banners Markers Mod for Minecraft PE