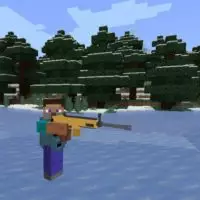 Zombie Apocalypse Mod for Minecraft PE
Version MCPE: 1.17.0 - 1.20.31
Download
Download Zombie Apocalypse Mod for Minecraft PE: try to survive in a very dangerous world, use weapons, equipment, and useful items.
What is new in Zombie Apocalypse Mod?
Players who install Zombie Apocalypse Mod will have to fight with a huge number of very dangerous and bloodthirsty dead. They will roam around the world of Minecraft PE and look for their victims.
Fortunately, the authors have added a lot of useful items to the Inventory, from food to various projectiles. Players will also have new weapons and equipment at their disposal, which will give them certain effects.
True Survival
This update for Zombie Apocalypse Mod will fill the cubic space with a large number of dead people, each of whom considers Steve to be his goal and will try to deal with him.
Fortunately, the Minecraft PE player will not be alone to fight the undead. On his side will be miners, survivors, scientists, and soldiers. To make it easier for the hero to cope with new dangers, he is invited to use various new types of weapons and equipment.
You can also find food and other useful items in the Inventory of the Creative Mode.
Zombie Apocalypse
This time, the authors of Zombie Apocalypse Mod suggest installing a file with structures separately. They will help to completely transform the world of Minecraft PE and make it truly post-apocalyptic.
In addition to weapons, players will also have special items at their disposal that will help in the fight against evil spirits. For example, in a potion mixer, you can create special antidotes that will help in case of infection.
To move around the territory faster, use a bicycle. Also in the chests of structures, you can find an underwater breathing device that will allow you to move freely underwater.
Players can meet new NPCs, among them scientists, a katana seller, and an old Hobo. All of them attack zombies and will follow the player if he is holding Toblerone chocolate in his hands.
How do I install this Zombie Apocalypse Mod?

The file is in .mcaddon extension, so just tap on the file to automatically install the modification.

Can this mod be run in a multiplayer game?

Yes, for this it is enough just to be the owner of the card and install this modification on it.

What if the mod doesn't work?

Try to activate the experimental game mode.
download anchor
Download Zombie Apocalypse Mod for Minecraft PE