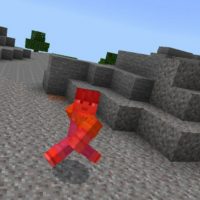 The Floor is Lava Mod for Minecraft PE
Version MCPE: 1.19.0 - 1.20.15
Download
Download The Floor is Lava Mod for Minecraft PE: now, to survive, players will have to seek shelter or a means of transportation away from grass or stones.
What is interesting about The Floor is Lava Mod?
Movement on the surface of Minecraft PE has become impossible, the player instantly takes damage and dies. Only ingenuity will help the hero to cope with the difficult test, which was prepared by the authors of Floor is Lava Mod.
In the real world, both children and adults love to play this uncomplicated game. Moreover, participants can continue to play in the most unusual and sometimes unsuitable places for this, it is enough to say a code phrase and make the opponent frantically look for a place to save.
Danger is everywhere
It is worth noting that the four most popular blocks at once, which make up the surface of many biomes in Minecraft PE, pose a danger to the player. The fact is that if you step on the sand, grass, gravel, or stone, then your level of health will constantly fall.
This will instantly lead to the death of the hero, so it is necessary to act not just quickly, but instantly. The best way to survive in Floor Lava Mod is to climb a tree or other safe blocks.
Rescue options
For a Minecraft PE player not to die immediately after appearing on the site, he must have any of the blocks in his arsenal that do not cause damage. That is, it should not be grass or sand, nor gravel or stone.
Install a safe surface so that you can stand on it and think about further possibilities for movement. The test prepared by the authors of Floor is Lava Mod is much more difficult than the battle with the most dangerous mob. No armor or weapons will help the heroes in this situation.
Only ingenuity and the ability to make quick decisions in a stressful situation can save a player from imminent death. Be sure to invite your friends to find a solution to this problem together.
How do I install this The Floor is Lava Mod?

The file is in .mcaddon extension, so just tap on the file to automatically install the modification.

Can this mod be run in a multiplayer game?

Yes, for this it is enough just to be the owner of the map and install this modification on it.

What if the mod does not work?

Try to activate the experimental game mode.
download anchor
Download The Floor is Lava Mod for Minecraft PE