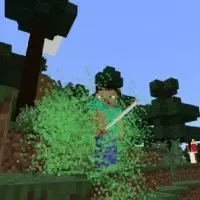 One Piece Mod for Minecraft PE
Version MCPE: 1.13.0 - 1.20.31
Download
Download One Piece Mod for Minecraft PE: enter the world of the famous anime series, use incredible weapons and find unique treasures.
What is new in One Piece Mod?
This update for Minecraft PE is based on the anime-style series of the same name, which is among the top five in Japan. According to his story, an ordinary boy eats a devilish fruit and after that, his body gets the properties of rubber.
After that, he and his team are trying to find incredible treasures to become the pirate king. Thanks to One Piece Mod, Cube world users can transfer these events into the game and become full participants.
A large number of new characters, as well as unique weapons, will help create the atmosphere of the original story.
New weapons
Eight new swords will be available to every Minecraft PE user at once. Among them, there is the famous Yubashiri. It gives the hero a black aura and can be obtained after defeating a pirate or with the help of a special command /give @p ope:yubashiri.
You can get a purple aura with the help of Nidai Kitetsu, and a white one thanks to Kikoku.
In the inventory of the Creative Mode in One Piece Mod, players will also find unique fruits, each of which has a unique effect. For example, a fire or magma fist, as well as an ice trident.
Characters
In addition to special weapons and items, One Piece Mod adds twenty-eight new mobs to the cubic world at once. All of them may be familiar to Minecraft PE players from the original story.
All these creatures spawn with the help of summoning eggs and have unique behavior mechanics. They attack and fight each other. Amazing and exciting adventures await the heroes in this world, and anime fans will be doubly pleased to see familiar characters in cubic space.
Download this update soon and be sure to turn on the Experimental Mode to take advantage of all the features.
How do I install this One Piece Mod?

The file is in .mcaddon extension, so just tap on the file to automatically install the modification.

Can this mod be run in a multiplayer game?

Yes, for this it is enough just to be the owner of the card and install this modification on it.

What if the mod doesn't work?

Try to activate the experimental game mode.
download anchor
Download One Piece Mod for Minecraft PE