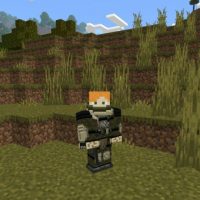 Legends Mod for Minecraft PE
Version MCPE: 1.16.0 - 1.20.15
Download
Download Legends Mod for Minecraft PE: try yourself in a battle with the most dangerous monsters in the game world and only very brave players will be able to stay alive.
What is new in Legends Mod?
The authors of these add-ons for Legends Mod offer players to plunge into the atmosphere of incredible and very dangerous adventures. This time they will have to fight not only with terribly infected creatures but also with extremely merciless creatures.
Legendary monsters like Entity 303 or Herobrine will appear in the Minecraft PE world.
Being a Hero
After installing this update for Legends Mod, moving around cubic space at night will become even more dangerous. Two more variants of terrifying creatures will be added to the standard set of night monsters.
These are people who have been infected with an unknown virus. They look extremely intimidating, and a terrible scream is constantly heard from their open mouth. These creatures have a healthy reserve of 20 units.
In addition, Minecraft PE players will certainly meet infected dogs, be careful, because they are much faster and more dangerous than ordinary creatures. Fortunately, the developers have prepared an updated diamond armor for the heroes, as well as powerful weapons.
Robert Neville and his dog, a German Shepherd, will appear as an assistant who will protect the players in this expansion.
Creepypasta Legends
The creators of this add-on for Legends Mod offer players the to meet the most dangerous creatures in the game world. They have incredible health reserves and can destroy even the most equipped player.
For example, Entity 404 can teleport and create dynamite, and Null will endlessly create its copies. You should not expect anything good from meeting such monsters in Minecraft PE, opponents are extremely dangerous and merciless.
Only the bravest players will decide to download this update and try their hand at an incredible fight.
How do I install this Legends Mod?

The file is in .mcaddon extension, so just tap on the file to automatically install the modification.

Can this mod be run in a multiplayer game?

Yes, for this it is enough just to be the owner of the card and install this modification on it.

What if the mod doesn't work?

Try to activate the experimental game mode.
download anchor
Download Legends Mod for Minecraft PE