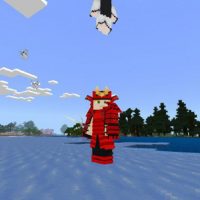 Japanese Mod for Minecraft PE
Version MCPE: 1.2.0 - 1.20.31
Download
Download Japanese Mod for Minecraft PE: make the game space incredibly beautiful by filling it with cherry blossoms and meeting unique creatures.
What is new in Japanese Mod?
The culture of Japan is very interesting and multifaceted. It combines an incredible love of nature and modern technology. Incredible creatures will appear in Minecraft PE thanks to the Japanese Mod.
Players will be able to try on the image of a samurai and fight using the famous katanas and other weapons.
Yamato
The love of the surrounding nature distinguishes every Japanese. The inhabitants of this country have great respect and awe for everything that surrounds them. This update for Japanese Mod will fill the entire space with new plants.
Among the trees in Minecraft PE, there will be famous cherry blossoms, which are the hallmark of the land of the rising sun. Stay in this place for a long time to appreciate its unique atmosphere of tranquility and tranquility.
Japanese Folklore
After installing this add–on for Japanese Mod, players will be able to tame one of the most famous and loyal dogs – Akita Inu. You can do this with the help of a bone, and the animal will spawn all over Minecraft PE.
New opponents will also appear in the cubic space. Some of them can be tamed. For example, a swamp dweller named Kappa will become a friend of the player with the help of a water lily.
But at night you can meet another dangerous mob. A creature named Yuki-ona will attack anyone who gets in her way. She will do it in a very unusual way – with the help of butterflies.
Fighting against this and other creatures is offered with the use of various katanas. You can find them in the Inventory of the Creative Mode. A samurai outfit or armor will complement the image.
Great attention to detail is the hallmark of this update, which combines all the most famous Japanese characters.
How do I install this Japanese Mod?

The file is in .mcaddon extension, so just tap on the file to automatically install the modification.

Can this mod be run in a multiplayer game?

Yes, for this it is enough just to be the owner of the card and install this modification on it.

What if the mod does not work?

Try to activate the experimental game mode.
download anchor
Download Japanese Mod for Minecraft PE