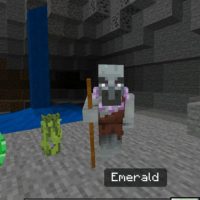 Dungeons Mod for Minecraft PE
Version MCPE: 1.16.0 - 1.19.63
Download
Download Dungeons Mod for Minecraft PE: meet new inhabitants of cubic space, as well as explore unique underground structures.
What is new in Dungeons Mod?
An incredible amount of new materials, weapons, and equipment will be given to each player who installs the Dungeons Mod. Users will find themselves in a completely different world, with new biomes and mobs.
This is a great opportunity for all Minecraft PE heroes to diversify the gameplay and start incredible adventures right now.
Craft
This update for Dungeons Mod will expand the cubic world. New biomes, structures, and mobs will appear in it. Incredible adventures await every player in this territory.
Users will have to re-explore Minecraft PE because it will look new. Incredible mobs will appear, some of which will be very strong and dangerous.
To combat them, the authors suggest using a photon sword. You can get the material for crafting it in the Crystal Biome. And Energy armor will help make the player practically invincible.
New Dungeons
This time, players are invited to get acquainted with the underground inhabitants to be prepared to meet them in the main mode. Dungeons Mod adds the following creatures to Minecraft PE:
Arch-lich is the most important villain, will shoot balls and summon other creatures;
Inhabitants – among them you can meet illusionists and ice robbers who have unique properties;
Vine – plants that will haunt the player;
Pig with a Chest – drops the chest after death;
Key Golem is an unusual creature that can open any door.
Players can also use new weapons and artifacts to fight monsters. The most dangerous opponent in this update is considered to be Redstone Monstrocity. Has a health of 515 units and may well destroy the player. It uses dropping when attacking and spawns Redstone cubes.
How do I install this Dungeons Mod?

The file is in .mcaddon extension, so just tap on the file to automatically install the modification.

Can this mod be run in a multiplayer game?

Yes, for this it is enough just to be the owner of the card and install this modification on it.

What if the mod does not work?

Try to activate the experimental game mode.
Download Dungeons Mod for Minecraft PE