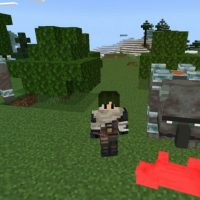 Difficulty Insane Mod for Minecraft PE
Version MCPE: 1.17.0 - 1.20.15
Download
Download Difficulty Insane Mod for Minecraft PE: try to survive in a world where everything has become much more difficult, and dangerous mobs have now received even more abilities.
What is interesting in Difficulty Insane Mod?
For those users who have already coped with the Edge Dragon more than once, the gameplay in Minecraft PE may seem too simple. It is for this case that the authors created these updates for the Difficulty Insane Mod.
The fact is that now the monsters will not be afraid of sunlight. Their strength will increase, and they will use the most powerful weapons. It is worth noting that the tests have a maximum level of difficulty, so they are not recommended for beginners.
Nightmare Difficulty
For those Minecraft PE players who are looking for a high level of gameplay complexity, this update is perfect. The fact is that now the monsters will not burn in the sun, which means their number in the daytime will be much greater.
Instead of pigs, destroyers will spawn, and creepers will receive a shock charge and incredible speed. Even in the underwater world, the Difficulty Insane Mod will become more dangerous, because everyone Drowned to arm themselves with tridents.
Also, the heroes should be wary of lava, because it instantly deprives them of life, and once in a pond – drown. Dragon and Wither gained more health, and previously harmless bats are now spreading deadly viruses.
Difficulty Insane
It is worth noting that to activate all the changes that are provided by this add-on for Difficulty Insane Mod, you need to enable Experimental Mode. As in the previous update, the characteristics and capabilities of various creatures will be mainly affected.
Their attack power will be significantly increased, as well as their number will noticeably increase. As a rule, opponents in Minecraft PE will appear in groups of up to 20 individuals. Also, such creatures as Gasts will spawn in the Next world.
How do I install this Difficulty Insane Mod?

The file is in .mcaddon extension, so just tap on the file to automatically install the modification.

Can this mod be run in a multiplayer game?

Yes, for this it is enough just to be the owner of the map and install this modification on it.

What if the mod does not work?

Try to activate the experimental game mode.
download anchor
Download Difficulty Insane Mod for Minecraft PE