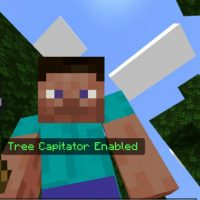 Timber Mod for Minecraft PE
Version MCPE: 1.14.0 - 1.19.63
Download
Download Timber Mod for Minecraft PE: use special tools for cutting trees and harvesting wood many times faster.
What is interesting in Timber Mod?
Minecraft PE players take a huge amount of time to get the necessary resources. After all, it is necessary to break up one block at a time, and then collect the wood and transport it to the construction site.
Now with Timber Mod, the process will be as simple and convenient as possible. Players will have the opportunity to destroy the entire tree with one blow. They will also have new devices at their disposal that will help destroy the plant in a matter of seconds and get the necessary material.
Make boring and long processes faster and more convenient, along with this update.
The Woodcutter
It is worth noting that this update for Timber Mod works exclusively in survival mode. The mechanics are very simple and to use it you need to pick up an axe. By the way, it can be made of absolutely any material.
After that, the player will have to sit down and approach the tree in this state. Start chopping it and it will collapse completely. The Minecraft PE hero will receive leaves and fruits if they are available on this plant.
This is the easiest and most convenient way to get useful resources and proceed to the next stage.
Devices for Cutting
Even more different devices for cutting trees are offered for use by this addition for Timber Mod. Players will receive a special bomb that will blow up any tree in a matter of minutes.
By the way, a fairly large funnel forms after the explosion, keep this in mind before using the fuse. Cutter will also appear in the Inventory. It is enough for the hero to throw it into a plant to get wood. All items are available in Creative Mode and can be used immediately.
Get valuable resources to start the construction process faster. Bring to life the most daring ideas in Minecraft PE.
How do I install this Timber Mod?

The file is in .mcaddon extension, so just tap on the file to automatically install the modification.

Can this mod be run in a multiplayer game?

Yes, for this it is enough just to be the owner of the card and install this modification on it.

What if the mod does not work?

Try to activate the experimental game mode.
Download Timber Mod for Minecraft PE