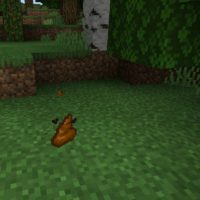 Poop Mod for Minecraft PE
Version MCPE: 1.2.0 - 1.20.31
Download
Download Poop Mod for Minecraft PE: create previously unseen blocks and weapons from the most non-standard material in the history of the cubic world.
What is interesting in Poop Mod?
The authors of Poop Mod have an incredible sense of humor because they decided to add very unusual items and blocks to Minecraft PE. To get them, players will need to get animals that will periodically produce brown piles.
By the way, all this will be accompanied by very characteristic sounds. In the future, it will be possible to create blocks from the waste products of rabbits, bats, or wolves. By the way, if users throw excrement at someone, they will start to throw up.
Make the game more fun, together with this unusual update.
Blocks
To the large selection of various blocks in Minecraft PE, the authors of this add-on decided to add some unusual items. All of them will be brown and you will need poop to create them.
You can get them by having a cow, it is this animal that will defecate every half hour. Then, by crafting, players can create three types of new blocks. As well as two types of swords from this resource.
By the way, the maximum damage from such weapons in Poop Mod is more than 50 units. Fighting with it, you will not be left without the attention of others.
Poop
Another addition on the same topic is that there will be even more animals that will get the ability to defecate. At the same time, in the Poop Mod, they will accompany the process with the sound of farting. It looks very funny and unusual.
Horses will do this most often, and bats and rabbits will also get this opportunity. The products of their vital activity will look like brown piles. The player can use them as weapons.
If you hit someone with such a projectile, he will get the effect of nausea. Have fun with this update and make your adventures fun.
How do I install this Poop Mod?

The file is in .mcaddon extension, so just tap on the file to automatically install the modification.

Can this mod be run in a multiplayer game?

Yes, for this it is enough just to be the owner of the card and install this modification on it.

What if the mod doesn't work?

Try to activate the experimental game mode.
download anchor
Download Poop Mod for Minecraft PE