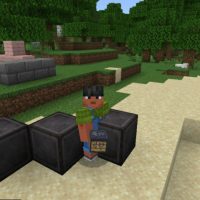 Ghost Blocks Mod for Minecraft PE
Version MCPE: 1.19.0 - 1.20.15
Download
Download Ghost Blocks Mod for Minecraft PE: create secret passages to hide unexpectedly from the sight of enemies, as well as create invisible traps.
What is interesting in Ghost Blocks Mod?
The process of survival in Minecraft PE has its difficulties and nuances. The authors of Ghost Blocks Mod propose to make it somewhat more convenient, thanks to the appearance of improved blocks in the game.
It is worth noting that all the standard functionality will remain at the same time. That it also adds the ability to pass through obstacles.
Main Features
To start using the features of Ghost Blocks Mod, players will need to craft a special item. It is called the Workbench of Souls, and players can also find it in the Inventory of the Creative Mode of Minecraft PE.
Place it in any convenient place and click on this object. In the menu that opens, you need to place any block that needs to be improved. Take the finished object from the workbench.
Further use of such items may be limited only by the imagination of the users.
Variants
The most commonly used methods are to create a trap, stepping on which the victim will instantly pass through the block and fall into the trap. Minecraft PE players can also prank friends or create a secret room in their homes.
Ghost Blocks Mod in a sense allows the hero to feel like a superhero. This update supports almost all existing materials in the cubic world.
For example, brick, gold, and others. There are only a few exceptions that the author could not add to the update. It is glass and smooth quartz block. And if in the first case, this is due to a change in the appearance of the glass, then in the second with problems in the game itself.
It is worth noting that the mechanics of the interaction of heroes with updated items are completely similar to the classic versions.
How do I install this Ghost Blocks Mod?

The file is in .mcaddon extension, so just tap on the file to automatically install the modification.

Can this mod be run in a multiplayer game?

Yes, for this it is enough just to be the owner of the map and install this modification on it.

What if the mod does not work?

Try to activate the experimental game mode.
download anchor
Download Ghost Blocks Mod for Minecraft PE