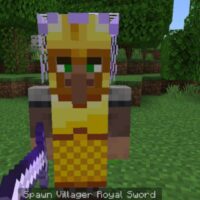 Villager Soldier Mod for Minecraft PE
Version MCPE: 1.17.0 - 1.20.41
Download
Download Villager Soldier Mod for Minecraft PE: Add new characters to the game who can protect not only themselves but also others, they are armed and dangerous.
What is interesting in Villager Soldier Mod?
To diversify the gameplay and make it more interesting, there are many different ways. The authors of Villager Soldier Mod suggest adding new inhabitants to Minecraft PE.
These creatures look like villagers, but they are well-armed and can protect not only themselves but also others.
 Villager Soldier
As you know, in the cubic world, villages are constantly being raided by robbers. Skeletons or zombies can also enter settlements at night. Minecraft PE players can independently help defenseless creatures or install this add-on for Villager Soldier Mod.
Now there will be a new kind of settlers who will attack near with a sword. And from a long distance with a crossbow. Heroes can also arm a blacksmith with a sword and he will become a swordsman. Or a bow seller can be given this weapon and then he will become an archer himself.
Thus, the gameplay will be filled with new inhabitants, it will become even more interesting and diverse.
More Villagers
Another way to protect the locals and make them stronger is offered by the authors of this update Villager Soldier Mod. There are several variants of these creatures from beginners, who do not differ in great strength and appear without weapons and armor.
By the way, if you give any settler a sword, an axe, a crossbow, or a bow, then he will become a beginner. Every time he defeats his opponent, his level will increase.
The coolest in Minecraft PE is the squads of captains, they are not only well-armed and equipped but also move on horseback and they can be recognized by the banner.
The main feature of these inhabitants of the cubic world is that they can send other units into battle.
How do I install this Villager Soldier mod?

The file is in .mcaddon extension, so just tap on the file to automatically install the modification.

Can this mod be run in a multiplayer game?

Yes, for this it is enough just to be the owner of the map and install this modification on it.

What if the mod does not work?

Try to activate the experimental game mode.
Download Villager Soldier Mod for Minecraft PE