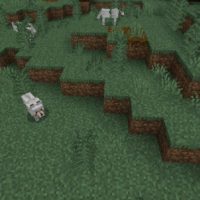 Too Many Mobs Mod for Minecraft PE
Version MCPE: 1.18.0 - 1.19.63
Download
Download Too Many Mobs Mod for Minecraft PE: complicate the process of survival, making it even more interesting and exciting.
What is interesting in Too Many Mobs Mod?
For those players who think that the standard survival process in Minecraft PE has become too simple, Too Many Mobs Mod is perfect. This update will increase the frequency of creatures appearing in the vast cubic world.
The difficulty will be that not only during the day there will be many times more animals, but also at night. The authors have made it so that some mobs will appear two, four, and even eight times more. Players should stock up on reliable weapons before dark.
Opportunities
Users who have already spent many hours in their favorite game may at some point get bored with the standard gameplay and generally seem that survival is becoming too simple. Therefore, the authors come up with various updates that add new creatures to the cubic world.
This time in Too Many Mobs Mod, the creations will be the same, there will just be a lot more of them. Minecraft PE players will need to take care in advance of how they will protect themselves from the increased threat. It is better to stock up on weapons in advance.
New dangers
As soon as the last rays of the sun disappear, various monsters will appear in the world of Minecraft PE. At the same time, creepers will appear in twos, skeletons in four at once. But most of all, zombies will spawn at a time – there will be 8 of them at once.
Too Many Mobs Mod is a great opportunity to try your hand in more difficult conditions, where the threat will be several times greater. Only the bravest heroes will be able to live until dawn.
Download the update and do not forget to create more weapons and armor to defeat all rivals. Turn on the Experimental Game mode to take advantage of all the possibilities.
How do I install this Too Many Mobs Mod?

The file is in .mcaddon extension, so just tap on the file to automatically install the modification.

Can this mod be run in a multiplayer game?

Yes, for this it is enough just to be the owner of the card and install this modification on it.

What if the mod doesn't work?

Try to activate the experimental game mode.
Download Too Many Mobs Mod for Minecraft PE