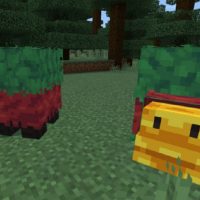 Sniffer Mod for Minecraft PE
Version MCPE: 1.18.0 - 1.19.63
Download
Download Sniffer Mod for Minecraft PE: meet a unique creature that has never appeared before in the vast cubic world and evaluate its capabilities.
What is new in Sniffer Mod?
For those players who do not want to wait for the developers to introduce new mobs into the game, the author has created a Sniffer Mod. Thanks to this update, a very unusual and previously never appeared in Minecraft PE creature named Sniffer will appear in the cubic world.
It is worth noting that this is a harmless creature who spends his whole life searching for seeds. That is why, approaching it, you can hear a characteristic sound. He constantly sniffs and thanks to this he can find his food even deep underground.
Eggs
After installing the Sniffer Mod, eggs will appear all over the cubic world. They can be seen on the beaches of almost all reservoirs.
There are 3 growth stages for these objects. The last of them is called Sniffer Egg with Neck and if at this stage it is crushed or stepped on, it will collapse and a small individual will appear.
It is worth noting that in the adult state in Minecraft PE, this creature reaches sizes exceeding even a cow. But at the same time, he will not use his abilities and will never attack mobs or the player.
Features
Sniffer Mod adds a creature to the cubic world that is harmless to any creatures. He is unlike any of the creatures currently existing in the real or cubic world. The author managed to completely recreate his image from the video.
He spends all his time searching for food. By the way, seeds of plants such as pumpkin, melon, wheat, or beet periodically fall from them. Therefore, those players who decide to follow him can receive a reward.
This cute animal has a rather impressive size and makes sounds as if it is sniffing. Minecraft PE players will be able to evaluate all its features right now, just install this add-on.
How do I install this Sniffer mod?

The file is in .mcaddon extension, so just tap on the file to automatically install the modification.

Can this mod be run in a multiplayer game?

Yes, for this it is enough just to be the owner of the card and install this modification on it.

What if the mod does not work?

Try to activate the experimental game mode.
Download Sniffer Mod for Minecraft PE