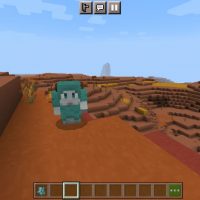 Rascal Mod for Minecraft PE
Version MCPE: 1.18.0 - 1.19.63
Download
Download Rascal Mod for Minecraft PE: evaluate the capabilities of the new mob, try to catch it, and then it will reward the player with a valuable item.
What is new in Rascal Mod?
The authors of Rascal Mod represent the most ambiguous of all contenders for the appearance of a Minecraft PE mob. Users are divided into two camps, some are categorically against him, while others believe that he is worthy of victory.
While the results have not been announced and it is unclear who will take a place in the Inventory and become a full-fledged resident of the cubic world. But the fact that this character is very interesting and different from anyone who has ever appeared in the vast expanses.
Rascal
As it became clear from the promo, the new mob, which may soon appear in the cubic world, lives mainly in the caves of Minecraft PE. There he likes to play hide-and-seek with players who decide to visit these places.
And if the hero finds it at least three times, the character will reward the winner with some valuable item. In Rascal Mod, the creature will appear accompanied by two llamas, as it happens with a traveling merchant. In general, the functionality of this creation is preserved in this update.
You can bargain with him and exchange various items.
New Creature
Another addition is that the author completely repeated the image of this new creature, which may soon become one of the characters of Minecraft PE. This time, he has an unprecedented speed and is extremely difficult to catch.
But if the player still manages to stop the character, he will certainly share some valuable items with him. Rascal Mod is a concept of the creation that was presented by the developers of Mojang and only if it wins the vote it can appear in the game.
And until that happens, players are invited to evaluate its capabilities with this update.
How do I install this Rascal mod?

The file is in .mcaddon extension, so just tap on the file to automatically install the modification.

Can this mod be run in a multiplayer game?

Yes, for this it is enough just to be the owner of the card and install this modification on it.

What if the mod does not work?

Try to activate the experimental game mode.
Download Rascal Mod for Minecraft PE