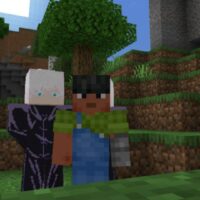 Jujutsu Kaisen Mod for Minecraft PE
Version MCPE: 1.16.0 - 1.20.15
Download
Download Jujutsu Kaisen Mod for Minecraft PE: Meet characters from a popular story, and use magical techniques and incredible weapons.
What is interesting in Jujutsu Kaisen Mod?
Everyone who has heard about this story at least once knows that the main character of the manga Jujutsu Kaisen is the incomparable warrior Gojo Satoru. His abilities are incredible and he generously shares his knowledge with his students.
In Jujutsu Kaisen Mod, Minecraft PE players will get acquainted not only with this character but also with others, including hostile creatures. Use ancient knowledge to defeat enemies.
Jujutsu Kaisen
This update for Jujutsu Kaisen Mod is based on the manga of the same name, which has been incredibly popular among fans of this direction since its appearance in 2018 until today.
The authors this time decided to please Minecraft PE users with the appearance in the cubic world of a large number of various weapons with magical effects, as well as various clothes and tools.
Creepy monsters that have appeared in it will help make the space around even more sinister, and players can also use a special item from the Inventory of the Creative Mode that will make the sky black.
Use ancient powers to become invincible, fly on a Nue or a broom Nishimiya.
Gojo Satoru
This time, only one character will appear in the cubic world, but he is the main character of the entire series of the manga of the same name. Gojo Satoru is a supreme sorcerer who uses various fighting techniques.
Among them, Minecraft PE players can highlight the Cursed or Purple Void technique. This hero will spawn in Jujutsu Kaisen Mod using the summoning egg in the Inventory. Use his incredible powers in the fight against enemies in the cubic world and spend time interesting and unusual.
How do I install this Jujutsu Kaisen mod?

The file is in .mcaddon extension, so just tap on the file to automatically install the modification.

Can this mod be run in a multiplayer game?

Yes, for this it is enough just to be the owner of the map and install this modification on it.

What if the mod does not work?

Try to activate the experimental game mode.
download anchor
Download Jujutsu Kaisen Mod for Minecraft PE