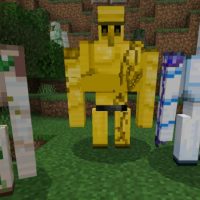 Golem Mod for Minecraft PE
Version MCPE: 1.11.0 - 1.20.31
Download
Download Golem Mod for Minecraft PE: meet new creatures that have unique features.
What is interesting in Golem Mod?
There are many different creatures in the Minecraft PE world. Some of them can be tamed and will become excellent assistants for the player. Others can be extremely dangerous and when you meet them, you should stock up on weapons and armor.
Golem Mod adds nine new species of these creatures at once. They are distinguished by a good-natured disposition and are always ready to help the villagers and Steve.
New creatures
The main character of Golem Mod is an auxiliary creature that spawns in large villages and helps the locals defend themselves from zombies and raids. Also, players can craft these mobs themselves from iron blocks and pumpkins.
Users do not have to do anything in this update, just activate the Experimental Mode and open the Inventory. Spawn eggs will be available there, separate for each creature.
Some will be very fast or slow, incredibly strong or weaker. In any case, the heroes of Minecraft PE will get an excellent assistant and defender in their person.
Opportunities
Each of the nine new creatures in Golem Mod has unique characteristics, but it is worth considering that some new mobs will be dangerous for players:
golden – does not attack mobs in Minecraft PE, while being much stronger and larger than an ordinary individual;
emerald – fast, but small and weak;
diamond is a universal option, as it is characterized by high speed and strength;
forgotten – players should be careful with this mob, as it is aggressive towards them;
grape forgot – similar in behavior to the previous version;
obsidian – the strongest of all;
herbal – has a very unusual face with a smile;
stone – will not fight with other mobs;
snowy – has a large reserve of health and is quite large.
How do I install this Golem Mod?

The file is in .mcaddon extension, so just tap on the file to automatically install the modification.

Can this mod be run in a multiplayer game?

Yes, for this it is enough just to be the owner of the card and install this modification on it.

What if the mod doesn't work?

Try to activate the experimental game mode.
download anchor
Download Golem Mod for Minecraft PE