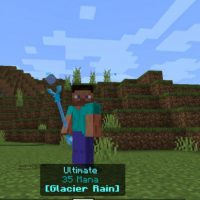 Magical Warfare Mod for Minecraft PE
Version MCPE: 1.19.0 - 1.20.15
Download
Download Magical Warfare Mod for Minecraft PE: use your unique abilities to turn your enemies into ice cubes or freeze them.
What is interesting in Magical Warfare Mod?
To become not just a magician or wizard, but to learn how to control the frosty element will help Minecraft PE players with this update. This time, the authors of Magical Warfare Mod offer to evaluate the capabilities of five new devices at once during the battle.
With their help, you can freeze your enemies so that they die. Or throw huge chunks of ice at opponents. And if the opponent has a fast movement speed, slow him down.
Attack options
After installing the Magical Warfare Mod, several new types of attacks will be available to players. All new features can be found in the Creative Mode Inventory and start using them immediately. When the player picks up an item, he holds a blue-colored staff with a rotating sphere at the end.
The base attack deals twenty-five points of damage and hits the enemy with blocks of ice. The player looks unusual when using the freeze effect. At this moment, a carved blue pumpkin appears on his head, and glowing snowflakes will swirl around. This time, 3 objects within a radius of eight blocks will be frozen at once.
Other features
With the help of the Flurry of Ice Balls skill, you can summon a creature that shoots ice projectiles to help. Another interesting weapon in Magical Warfare Mod is called a Frosty Compress. Enemies will be teleported high into the sky and will be in a cage while taking damage.
The latter attack option will cause a rain of ice, which will cause the enemy to freeze in place, as well as slow down other creatures that will be nearby. This is a very interesting gaming experience and such abilities will help diversify the world of Minecraft PE and make it even more interesting.
How do I install this Magical Warfare mod?

The file is in .mcaddon extension, so just tap on the file to automatically install the modification.

Can this mod be run in a multiplayer game?

Yes, for this it is enough just to be the owner of the map and install this modification on it.

What if the mod does not work?

Try to activate the experimental game mode.
download anchor
Download Magical Warfare Mod for Minecraft PE