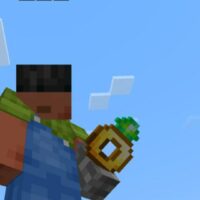 Magical Ring Mod for Minecraft PE
Version MCPE: 1.17.0 - 1.20.41
Download
Download Magical Ring Mod for Minecraft PE: Use magic items that will allow the player to achieve unprecedented success in the gameplay.
What is interesting in Magical Ring Mod?
Get unlimited opportunities that will help you defeat any enemies and succeed in the gameplay in Minecraft PE.
Magical Ring Mod gives every user a chance to become a real wizard.
Magic Rings
After installing this update for the Magical Ring Mod. Players will have four magic items at their disposal at once. All of them are rings and endow the Minecraft PE hero with one of the incredible effects.
For example, it can be an increase in speed, jump height, or strength, as well as improved regeneration. With such capabilities, each user can become invincible and achieve incredible success in the cubic world.
Divine
A few more magic items that will increase the performance of the Minecraft PE hero. They are presented to users by the authors of this Magical Ring Mod update. It is enough to simply put any of them in the inventory to get the desired effect.
This way, players will increase their strength, recovery, or speed. By the way, all these rings have levels that can be increased, thereby enhancing the abilities of their owner.
Magical
The most ambitious of all the updates. Magical Ring Mod gives the heroes access to 12 new rings with magical effects. All items must be put on the hero to activate them. To do this, equip them in the shield slot.
After that, the effect that affects the Minecraft PE hero will be displayed in the right corner of the screen. Among such abilities, resistance to fire, invisibility, underwater breathing, and others stand out.
It is noteworthy that all items are available not only in Creativity but also in Survival mode. To craft them, first use 8 gold bars and arrange them in the shape of a circle. And then combine the resulting object with the potion whose abilities you want to get.
How do I install this Magical Ring mod?

The file is in .mcaddon extension, so just tap on the file to automatically install the modification.

Can this mod be run in a multiplayer game?

Yes, for this it is enough just to be the owner of the map and install this modification on it.

What if the mod does not work?

Try to activate the experimental game mode.
Download Magical Ring Mod for Minecraft PE