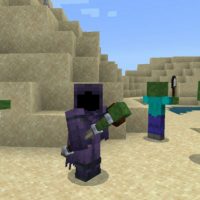 Magic of the Elements Mod for Minecraft PE
Version MCPE: 1.16.0 - 1.20.32
Download
Download Magic of the Elements Mod for Minecraft PE: arrange the most unusual adventures in the cubic world, and use incredible weapons and armor.
What is interesting in Magic of the Elements Mod?
For those Minecraft PE users who no longer find the standard gameplay so interesting. If they want to bring something new to it, the authors have created Magic of the Elements Mod.
Now it will be possible to control the elements and summon mobs with the help of magic items. Also, after installation, new valuable resources will appear in the game.
 Elementor Magic
You can control the three elements and use them to destroy any enemies. Just install this add-on for Magic of the Elements Mod. The authors have tried to make the use process as effective as possible and very entertaining.
Now every Minecraft PE player will act as a sorcerer and use fire, air, or water to set fire or freeze their opponents.
Weapons
All four elements: earth, water, air, and earth are represented in this update in the form of swords. The initial characteristics of items can be improved during their use in Minecraft PE.
By the way, in survival mode, you can create weapons yourself by finding new ore on the territory of the cubic world. You can make armor from the earth in Magic of the Elements Mod or use it as fuel.
Magic of the Elements
Users who install this update for Magic of the Elements Mod will be able to use unique magic items. First of all, it is worth noting that Minecraft PE players will have access to a new forge and a table for creating staffs and cores for them.
All items have an unprecedented animation of use and their capabilities can be constantly improved. Staffs have such features as acceleration, disappearing, as well as summoning various monsters to their side. It can be skeletons or zombies.
To protect the player himself, two new armor options will help at once, which is presented in this update.
How do I install this Magic of the Elements mod?

The file is in .mcaddon extension, so just tap on the file to automatically install the modification.

Can this mod be run in a multiplayer game?

Yes, for this it is enough just to be the owner of the map and install this modification on it.

What if the mod does not work?

Try to activate the experimental game mode.
download anchor
Download Magic of the Elements Mod for Minecraft PE