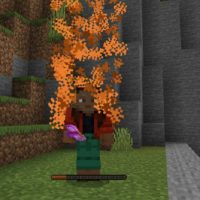 Earth Elements Mod for Minecraft PE
Version MCPE: 1.16.0 - 1.20.15
Download
Download Earth Elements Mod for Minecraft PE: learn how to control natural phenomena, blocks, and in general everything that surrounds the player in the cubic world.
What is interesting in Earth Elements Mod?
Use all the power of the natural elements to defeat absolutely any opponents in the cubic world. The authors of Earth Elements Mod have prepared a lot of unusual items with magical powers for Minecraft PE players.
They will endow the hero with a variety of effects, which in turn will be extremely useful in the process of survival. Unique armor, swords, food, and valuable resources will appear in the arsenal of heroes.
 Elemental Weapons
This update for Earth Elements Mod features items and weapons with a variety of magical properties. They are divided into five conditional categories, each of which will be useful at one time or another during the gameplay in Minecraft PE.
For example, the Sword of Fire sets enemies on fire, and the armor immediately has 30 units of protection. Lightning can be used to make nunchucks that will hit enemies with lightning. Ice gear will allow you to slow down opponents and shoot ice floes.
And, of course, players will be able to use the forces of the Earth.
Earth
From this resource in Earth Elements Mod, it will be possible to make armor that will give 45 points of protection and 800 strength. A scythe made of earth and gold will shoot at the opponents of the Minecraft PE player with stones.
All Elements
This time, players will have access to all the elements separately, they can be selected using a special menu. Also, the hero of Minecraft PE will be able to manage all at once.
Four items with numbers will appear in the Inventory of the Creative Mode. They correspond to slots in which certain abilities can be installed. You can also do this in Earth Elements Mod in the menu that is available from the scroll. The player receives it immediately after loading the world.
How do I install this Earth Elements mod?

The file is in .mcaddon extension, so just tap on the file to automatically install the modification.

Can this mod be run in a multiplayer game?

Yes, for this it is enough just to be the owner of the map and install this modification on it.

What if the mod does not work?

Try to activate the experimental game mode.
download anchor
Download Earth Elements Mod for Minecraft PE