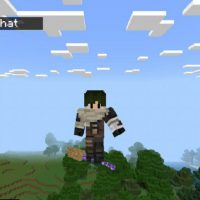 Broomstick Mod for Minecraft PE
Version MCPE: 1.17.0 - 1.20.15
Download
Download Broomstick Mod for Minecraft PE: feel like a real wizard, use which devices for flying and explore new spaces.
What is interesting in Broomstick Mod?
Magic has attracted attention at all times largely due to various unique features available only to a select number of people. One of these skills is the ability to move through the air, thanks to the most common brooms.
But the authors of Broomstick Mod decided to go even further and created these items from a variety of materials, starting with coal and ending with diamonds. By the way, Minecraft PE players can complement their magical image with a kind of hat and mantle.
Magic Broomstick
After installing this Broomstick Mod update, the Creative Mode Inventory will expand significantly. Magic items will appear in it, thanks to which traveling in Minecraft PE will become much easier and more enjoyable.
To climb up, it is enough to look up while holding a broom in your hands. Similarly, to descend to the surface, it is enough just to look down. By the way, three materials make items incredibly fast. These are amethyst, diamond, and redstone.
This is a completely new way to explore the world, which will help you start a new adventure story and get unforgettable emotions from the gameplay.
Items
This update for Broomstick Mod will help players create a truly magical atmosphere in Minecraft PE. The heroes will have at their disposal a wide variety of devices that will easily lift them into the air and move them to any point on the map.
Among other things, these objects allow the heroes to get various effects. For example, a broom made of jungle wood helps to breathe underwater, and acacia increases strength. If you use an object made of birch, then it will restore health. A hat, boots, and a mantle will help to complement the magical image. All of them are made in a magical style.
How do I install this Broomstick Mod?

The file is in .mcaddon extension, so just tap on the file to automatically install the modification.

Can this mod be run in a multiplayer game?

Yes, for this it is enough just to be the owner of the map and install this modification on it.

What if the mod does not work?

Try to activate the experimental game mode.
download anchor
Download Broomstick Mod for Minecraft PE