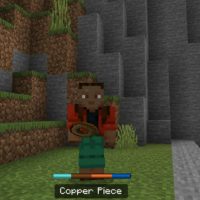 Avatar Elements Mod for Minecraft PE
Version MCPE: 1.16.0 - 1.20.32
Download
Download Avatar Elements Mod for Minecraft PE: feel the forces of all four elements, and use them in battles with your enemies.
What is interesting in Avatar Elements Mod?
Magical abilities have always attracted the attention of people and each of them dreamed of mastering at least one of them. The legend of the boy who controls all four elements at once has gained huge popularity recently, largely after the release of the famous anime.
Now Minecraft PE users will have the opportunity to develop the most incredible effects. Choose any of them or become the owner of all of them. In addition, the creators of Avatar Elements Mod offer to make friends with magical creatures that can become excellent travel companions for players.
 Animals
To get acquainted with two new mobs, players just need to install this update for Avatar Elements Mod. Fans of the anime of the same name should be familiar with these creatures.
Among them, there is a huge bison that will happily ride a Minecraft PE player on its back, as well as a cute creature named Momo. Another feature of this update is fireproof armor. It can be obtained in the Inventory of the Creative Mode or by using the command.
Avatar Abilities
After installing this Avatar Elements Mod update, enter the /function choose command in the chat. Next, a line will appear on the screen with the choice of the element that the Minecraft PE player can control.
Each of the abilities will endow the hero with some kind of effect, for example, immunity to fire or summoning lightning.
Avatar Mod
As soon as a Minecraft PE player appears in the game world, a scroll will be in his hands. Just click on it to open a special menu.
There are quite a lot of different options that will help you choose the right element or get all the effects. It is worth noting that Avatar Elements Mod provides for increasing the level after learning new skills.
How do I install this Avatar Elements Mod?

The file is in .mcaddon extension, so just tap on the file to automatically install the modification.

Can this mod be run in a multiplayer game?

Yes, for this it is enough just to be the owner of the map and install this modification on it.

What if the mod does not work?

Try to activate the experimental game mode.
download anchor
Download Avatar Elements Mod for Minecraft PE