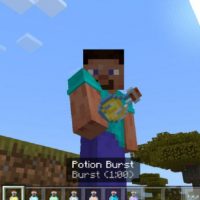 Alchemy Mod for Minecraft PE
Version MCPE: 1.19.0 - 1.20.15
Download
Download Alchemy Mod for Minecraft PE: create magic drinks that will improve some parameters of the player and help make him invincible.
What is interesting in Alchemy Mod?
Immerse yourself in the mysterious world of magic and create potions You can be every Minecraft PE user who installs Alchemy Mod. Improve your abilities, namely the speed of movement, or decrease to a tiny size and remain unnoticed by the enemy.
Make your adventures even more interesting and learn secret recipes that have never been available in the cube world before.
Alchemy Brew
By installing this update for Alchemy Mod, players will receive six magic drinks at once. You can create them yourself, just mix the well-known ingredients. But an even easier way to get it is in the Inventory of the Creative Mode of Minecraft PE.
Invulnerability potion improves resistance to enemy attacks and will allow you not to be afraid of even the most formidable monsters. And you can now destroy barriers or other obstacles with the help of an explosion potion. By the way, if the opponent wants to knock the player down, then take a drink with the stability effect in Alchemy Mod.  In addition, there is an elixir of the sacred fire, which will not allow opponents to even get close to the hero.
And, of course, the elixir of increasing and decreasing growth.
With Sorcery
This add-on offers Minecraft PE players even more opportunities to develop their magical abilities. They will be able to use the cauldron of the alchemist, as well as a mortar and pestle. By the way, using a Bottle is several times faster and more effective than conventional potions.
The authors of Alchemy Mod have come up with the most unusual elixirs with unique actions, for example, you can put a bad sign or a village hero on the player. Also, in the process of battles, make all enemies blind or summon lightning on them.
Catch the lost soul in a flask to make a magic decoction. Explore new opportunities and spend time interestingly and unusually.
How do I install this Alchemy Mod?

The file is in .mcaddon extension, so just tap on the file to automatically install the modification.

Can this mod be run in a multiplayer game?

Yes, for this it is enough just to be the owner of the map and install this modification on it.

What if the mod does not work?

Try to activate the experimental game mode.
download anchor
Download Alchemy Mod for Minecraft PE