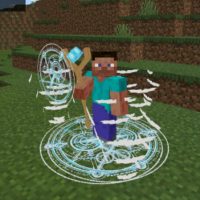 Air Magic Mod for Minecraft PE
Version MCPE: 1.16.0 - 1.20.32
Download
Download Air Magic Mod for Minecraft PE: Meet a very unusual inhabitant of the cubic world who can change the weather around.
What is interesting in Air Magic Mod?
There are many interesting and unusual things in the cubic world, but the authors of Air Magic Mod decided that there is not enough magic in it. They offer players to use various devices to control the elements, as well as try to fight a very dangerous mob.
It is worth noting that in both cases a unique and very beautiful animation was created, which will make this process in Minecraft PE even more interesting. Discover a completely new world in which there will be a lot of unexplored.
 Magic Staffs
As you know, most often magicians and wizards use staffs as weapons. They are a stick as long as the height of a man, which, with skillful handling, can cause lightning, fire, or wind.
This is exactly what will happen after installing the Air Magic Mod. Having opened the Inventory of the Creative Mode, Minecraft PE players will be surprised how many new items have appeared there. These will be the final versions of the staff and the usual ones, as well as special crystals with which an ordinary piece of wood becomes a magical artifact.
Thus, each rod has two levels, each of which nevertheless has exceptional properties. Among them, is an attack by the forces of wind, fire, water, or ice.
Windcaller
After installing this update for Air Magic Mod, players will be able to try to defeat a very dangerous mob. It has two types of attacks at once. The first creates a tornado that throws his enemies up, and the second creates a wind ghost.
The health level of the Windcaller is 30 units, and it spawns on extreme hills. As a drop from it, Minecraft PE players receive an ancient book that will allow them to lift any opponents into the air. Exciting adventures are waiting for their heroes right now.
How do I install this Air Magic mod?

The file is in .mcaddon extension, so just tap on the file to automatically install the modification.

Can this mod be run in a multiplayer game?

Yes, for this it is enough just to be the owner of the map and install this modification on it.

What if the mod does not work?

Try to activate the experimental game mode.
download anchor
Download Air Magic Mod for Minecraft PE