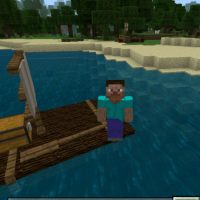 Raft Mod for Minecraft PE
Version MCPE: 1.4.0 - 1.20.31
Download
Download Raft Mod for Minecraft PE: use new vehicles also from bamboo on the water to hit the road and take animals, friends, and necessary things with you.
What is new in Raft Mod?
When going on a long journey, players often use a horse or camel as a means of transportation. It is very convenient and unusual. A ride on horseback can give unforgettable emotions.
But if you have to overcome a reservoir or go to sea, these animals will be useless. Of course, you can swim across a small lake or river, but it is better to use special devices.
Minecraft PE already has various types of boats on which you can move around with a chest or take your pet with you. The authors of Raft Mod offer another option for moving on water.
Variants
The authors of Raft Mod have prepared 6 new devices for players at once. All of them are designed for traveling on water. And it is worth noting that they are much more convenient than standard boats that have been used by Minecraft PE players for a long time.
The presented options differ in the type of wood that is used in their creation. For example, birch, oak, or jungle tree. All rafts are equipped with a sail for better maneuvering.
They also have a chest that holds up to 27 slots, so the heroes can take absolutely everything they may need on the road during the journey. It is worth noting that you can find new objects in the Inventory of the Creative Mode.
Opportunities
Any Minecraft PE player knows that a standard boat accommodates a player, a chest, or a pet. At the same time, the new items that will appear thanks to the Raft Mod are much more spacious.
For example, it will not be difficult to transfer several animals at the same time, as well as a chest with everything you need. Also, players can go fishing with them in the company of friends and this is also great fun and useful way to spend their free time.
Bamboo Raft
Players can also go on a journey on a bamboo raft, which the authors have tried to make as convenient as possible for use. Raft Mod allows you to make any trip unique.
How do I install this Raft mod?

The file is in .mcaddon extension, so just tap on the file to automatically install the modification.

Can this mod be run in a multiplayer game?

Yes, for this it is enough just to be the owner of the card and install this modification on it.

What if the mod does not work?

Try to activate the experimental game mode.
download anchor
Download Raft Mod for Minecraft PE