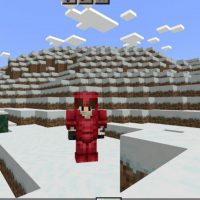 Netherite Mod for Minecraft PE
Version MCPE: 1.16.0 - 1.20.15
Download
Download Netherite Mod for Minecraft PE: use new items, weapons, and armor made of the most beautiful and durable material in the cubic world.
What is interesting in Netherite Mod?
Exciting adventures are an integral part of the gameplay in Minecraft PE. Many users try to make their protection maximum. For these purposes, the Netherite armor is perfect, as well as durable weapons and other items are crafted from this material.
The authors of the Netherite Mod decided not only to improve the visual characteristics of this resource but also to add many new options based on it. This is a great opportunity to try something new and make your hero invincible on the battlefield.
Deathnerite Plus
This time, Minecraft PE players will receive a full set of tools and weapons, as well as armor made from Netherite. It is worth noting that the appearance of all objects is amazing.
The bright red color gives the image of a warrior an intimidating look, and special effects make it almost invincible. Two types of equipment give not only immunity to fatigue and shriveling but also allow you to see better in the dark.
With the help of new shovels, axes, and sickles, the process of extracting valuable resources will be quick and easy. Try all the features right now, and install this update for the Netherite Mod.
Upgraded Netherite
This time, the authors have diversified the standard selection of armor in Minecraft PE. Now players will have nine new kits at once. It is worth noting that crafting is quite complicated, but it is worth it.
By the way, heroes can use ready-made options from the Inventory in Creative mode. Each armor will endow its owner with special properties. For example, golemite will increase strength and resistance, prismite will allow you to breathe underwater, and the spider will not allow you to get hungry.
But the most powerful equipment in the Netherite Mod is the Ultimate. It includes effects from all other options.
How do I install this Netherite Mod?

The file is in .mcaddon extension, so just tap on the file to automatically install the modification.

Can this mod be run in a multiplayer game?

Yes, for this it is enough just to be the owner of the map and install this modification on it.

What if the mod does not work?

Try to activate the experimental game mode.
download anchor
Download Netherite Mod for Minecraft PE