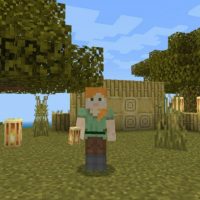 Bamboo Mod for Minecraft PE
Version MCPE: 1.18.0 - 1.19.63
Download
Download Bamboo Mod for Minecraft PE: use two new blocks for construction and light up the space with new bright lanterns.
What is new in Bamboo Mod?
Another construction material is offered to players by the authors of Bamboo Mod. It can be used in any biome, but it is best suited for buildings in savannah or swampy areas.
Minecraft PE players can use 2 types of blocks at once, which can be successfully combined to create an original building. By the way, unique lanterns can be used for lighting, which will perfectly complement the picture and create an incredible atmosphere in the new home.
New blocks
In the cubic world, there is almost everything you need to create incredible buildings that can be made in any style. These can be rustic houses made of wood or stone or more modern versions made of brick.
The authors of Bamboo Mod offer players another option that is perfect for building various bungalows or beach houses. Two types of new blocks will appear in Minecraft PE at once.
They differ in texture and can be used both together and separately. In any case, they will allow you to create the necessary atmosphere for each user.
Lanterns
And to complement the surrounding space with functional objects, Bamboo Mod also has lanterns. They are made of the same material and will perfectly match with buildings made of them.
It is worth noting that the lighting level is 15 units. It is as bright as a sea lantern. Therefore, no monster in Minecraft PE will go unnoticed in the dark and will not be able to sneak up on the player.
By the way, such lighting devices will create a unique and very cozy atmosphere both inside the building and outside. Do not forget to turn on the Experimental Game mode to take advantage of all the features.
How do I install this Bamboo mod?

The file is in .mcaddon extension, so just tap on the file to automatically install the modification.

Can this mod be run in a multiplayer game?

Yes, for this it is enough just to be the owner of the card and install this modification on it.

What if the mod does not work?

Try to activate the experimental game mode.
Download Bamboo Mod for Minecraft PE