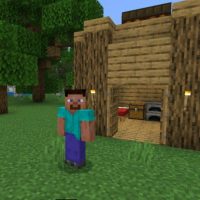 Start Map for Minecraft PE
Version MCPE: 1.19.0 - 1.20.15
Download
Download Start Map for Minecraft PE: an excellent location where there is everything you need to start a new and very exciting adventure story.
What is interesting in Start Map?
Starting something new is always difficult and that is why the authors created the Start Map. This location provides a starting set of necessary items and resources. Also, a cozy house has been built for Minecraft PE heroes, in which there is a bed for rest and other basic objects.
The surrounding nature is also very diverse and includes forests, reservoirs, and mountains. All this will make it comfortable and hassle-free to do exactly the things that are of interest to users in the first place.
Simple
This update is ideal for beginners in Minecraft PE, as well as for those players who want to concentrate on a certain process and not waste time preparing their home.
A two-story small house on the Start Map is equipped with all the essentials. It has a bed and a chest, as well as various useful blocks. On the territory surrounding the building, there is a vegetable garden and several animals that will allow you not to think about finding food.
The nature around is comfortable enough not to think about survival, but only to enjoy the gameplay in the cubic world. This is a real chance not to worry about anything.
Perfect
The player who installs this update for Start Map will spawn in a beautiful and picturesque place. The green forest and the river will allow you to get the necessary resources, and the mountains have enough ores for any needs.
In addition, there is, of course, a small one-story house on the territory. Inside there is a chest in which players will find not only bread but also armor with weapons. Thus, for Minecraft PE players with varying degrees of training, this update will be an excellent option to enjoy your favorite game and not think about any problems.
How to download Start Map?

Tap the file and open it in Minecraft PE.

Can I use this map with my friends?

Yes, the map can be used for a multiplayer game.

Can i use the map in the survival mode?

Yes, the map is suitable for the survival mode.
download anchor
Download Start Map for Minecraft PE