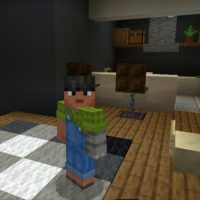 Secret Base Map for Minecraft PE
Version MCPE: 1.19.0 - 1.20.15
Download
Download Secret Base Map for Minecraft PE: embark on your most unforgettable adventure, and invite friends to evaluate all the possibilities together.
What is interesting in Secret Base Map?
The inaccessible space, which is located deep underground, is perfect for both single-player adventures and multiplayer games. The authors of Secret Base Map have created the most comfortable and modern space for survival.
A spacious lobby and many portals, as well as farms with a variety of resources, will appeal to even the most demanding Minecraft PE users. It is worth noting the unique pantry, where many valuable resources and everything you need and even more are stored.
Farms
Survival at a secret facility is impossible without food, so the authors of Secret Base Map took care of the presence of automatic farms on its territory. Various plants and animals are continuously grown on them, which are available for use at any time.
Minecraft PE players can stay in this place without any problems, even for a long time. Fresh vegetables will quickly restore the strength of the heroes so that they can go on exciting journeys again.
Other secrets
Of course, it will not do in such a place without stocks of weapons, equipment, and valuable resources. The storerooms are protected with the most modern technologies using redstone. Secret Base Map confirms its name in full and offers Minecraft PE players the opportunity to play not only alone but also with friends.
The heroes are waiting for incredible adventures that will give a lot of positive impressions and will be remembered for a long time. A functional renaissance zone and a whole network of portals will make every moment incredibly interesting and impressive. Use a special safe with a combination lock to save the most valuable objects.
How to download Secret Base Map?

Tap the file and open it in Minecraft PE.

Can I use this map with my friends?

Yes, the map can be used for a multiplayer game.

Can i use the map in the survival mode?

Yes, the map is suitable for the survival mode.
download anchor
Download Secret Base Map for Minecraft PE