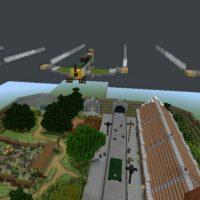 Normandy Map for Minecraft PE
Version MCPE: 1.19.0 - 1.20.15
Download
Download Normandy Map for Minecraft PE: visit an unusual location and immerse yourself in the atmosphere of the war years of the last century.
What is interesting in Normandy Map?
A wide variety of add-ons are constantly appearing in Minecraft PE, but the most interesting and thoughtful of them, of course, are Maps. The fact is that by downloading and installing them into the game, the hero immediately gets to some unique place. It has its laws, rules, inhabitants, and nature.
An interesting plot helps to fully immerse yourself in the atmosphere of the past or the future and to feel like a full participant in the events. Normandy Map offers users to visit the place where history was made in the last century. When the troops of the allied states landed on the shores of France to resist the terrible evil together.
Graphics
From the first minutes of their stay on the Normandy Map, players will notice incredible graphic elements. First of all, the intense atmosphere of this place is created by a gray sky with heavy cumulus clouds, on which three planes froze during the flight. They seem to put pressure on the player and make him constantly remember the existing threat.
Plot
In the last century, during the Second World War, several countries joined together to stop a terrible evil that threatened the whole world with terrible consequences. Therefore, they made a landing on the shores of Normandy and it was this moment of history that the authors of this update decided to transfer to Minecraft PE.
Players will have to face various challenges on Normandy Map and try to survive despite the difficulties of wartime.
Main Features
In the survival mode on Normandy Map, players will meet many different characters. Each of them has a certain territory assigned to them, where they perform their tasks.
The whole location consists of various buildings, there are quite a lot of various military equipment and fortifications. Also, the terrain itself is quite large, a large map that stands nearby will help Minecraft PE players navigate it.
How to download Normandy Map?

Tap the file and open it in Minecraft PE.

Can I use this map with my friends?

Yes, the map can be used for a multiplayer game.

Can i use the map in the survival mode?

Yes, the map is suitable for the survival mode.
download anchor
Download Normandy Map for Minecraft PE