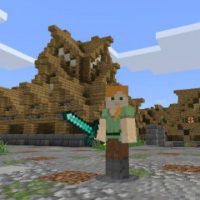 Medieval Map for Minecraft PE
Version MCPE: 1.16.0 - 1.19.63
Download
Download Medieval Map for Minecraft PE: get into a cute village or explore a mysterious castle–fortress with your friends.
What is interesting in the Medieval Map?
An amazing world in which players are waiting for incredible adventures is available in Minecraft PE. In Medieval Map, the hero can explore a medieval village, which has many beautiful buildings where users can go and look for useful items.
Or a hero can visit a medieval castle-fortress. A powerful structure, which also has interesting houses and even residents. In the central square, the player can walk and get to know the locals, so there is a fountain and many flowers.
Users can play with friends and create adventures together.
Village
Now every Minecraft PE user can get into a real medieval village. The developers created each element manually.
By the way, players can explore buildings not only from the outside but also inside and even try their luck and find useful items. There are a lot of interesting buildings in the village: residential buildings, a pier, a mill, and even a central square.
Despite the fact that the map is created in Creative mode, players can change it to survival. This update for Medieval Map is available for multiplayer, so heroes can team up and play together.
Fortress
The incredible beauty of the castle-fortress was created by developers for Medieval Map. Players can get inside a real medieval castle. The castle is surrounded by powerful walls to protect against enemies. Heroes can also use automatic gates to enter.
Inside the fortress in Minecraft PE, the player finds a beautiful square and many houses of local residents, which can also be entered. The internal situation in them varies, depending on which profession the owner belongs to.
Amazing adventures in a mysterious fortress are waiting for the hero right now.
How to download Medieval Map?

Tap the file and open it in Minecraft PE.

Can I use this map with my friends?

Yes, the map can be used for a multiplayer game.

Can I use the map in the survival mode?

Yes, the map is suitable for the survival mode.
Download Medieval Map for Minecraft PE