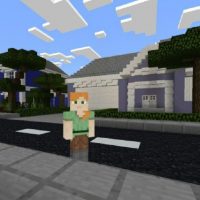 Neighborhood Map for Minecraft PE
Version MCPE: 1.4.0 - 1.20.41
Download
Download Neighborhood Map for Minecraft PE: unique territories where each player will be able to find a place to his liking and use it to start a new story.
What is interesting in Neighborhood Map?
The authors of Neighborhood Map have put a lot of effort into making a worthwhile update. And they did it the best they could. Full-fledged cities, in which every detail is thought out, are waiting for their heroes.
Players can bring any ideas to life. The territory is fully ready for use. Each building has a unique design and is not repeated.
This is a wonderful opportunity to start a quiet and measured life or arrange role-playing adventures with friends. A variety of living spaces, as well as schools and shops, are available for use right now.
Sanjana
This location includes more than twenty different structures that are fully habitable. The authors of this addition to Neighborhood Map have prepared a lot of cozy houses of different sizes for Minecraft PE players.
Each of them has a full-fledged interior, a beautiful facade, and even a backyard. There are also shops, cafes, theaters, and a school on the territory. Sanjana is perfect for creating role-playing games and is suitable for multiplayer mode.
Great graphics and interesting designs of buildings will allow each player to find something to do in this beautiful place.
Neighborhood
This update for Neighborhood Map contains about sixty houses that make up a beautiful and cozy town. Each building has a unique appearance. There may be a swimming pool or other items in the backyard.
The authors left the interior of the mansions untouched. But in this way, Minecraft PE players will have every opportunity to equip it at their discretion.
This is an incredibly inspiring project, in which the author has invested a lot of effort. Each user can implement their ideas in this area.
How to download Neighborhood Map?

Tap the file and open it in Minecraft PE.

Can I use this map with my friends?

Yes, the map can be used for a multiplayer game.

Can i use the map in the survival mode?

Yes, the map is suitable for the survival mode.
Download Neighborhood Map for Minecraft PE