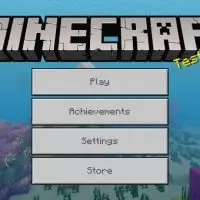 Minecraft PE 1.7.0
Download Minecraft PE 1.7.0
Download
Download Minecraft 1.7.0 full version with working Xbox Live for Android, and keep all the necessary statistics about the players on your map!
What's new in Minecraft PE 1.7.0?
In Minecraft 1.7.0, there is only one big but rather interesting innovation – SSIS. This is a system for scoring game events that allows you to keep statistics about the players. This is especially useful for server owners and map builders that require some recording.
Keeping statistics about the player
In Minecraft 1.7.0, the player can do all this with the /scoreboard command. First, you need to create a target using /scoreboard objectives add <target name> dummy <display name>.
After that, add the player whose statistics will be kept using /scoreboard players add <nick> <target name>. Note that you can only change values ​​using commands.
Display
All goals and player statistics can be displayed on the screen, which is very useful on various maps for passing in MCPE 1.7.0. To do this, use the /scoreboard setdisplay sidebar <target name> command.
Command block management
With the release of Minecraft PE 1.7.0, players have the ability to regulate the work of command blocks. They can be disabled or, conversely, activated using the /gamerule commandblocksenabled.
This command would be a great solution to bypass the mode change protection on some maps.
Food
Before Minecraft 1.7.0, it was impossible to eat food in creative and peaceful game mode. However, the developers at Mojang decided to give players this opportunity. Additionally, the chorus fruit has been moved to the items section of the Creative Inventory.
Chat room
Another equally useful new feature in Minecraft 1.7.0 is the ability to be mentioned in the chat. The @ symbol will help with this., after which it is necessary to register the player's nickname. This message will appear in yellow and will definitely attract the player's attention.
How can i record, for example, the number of deaths of a player in a table?

To do this, you need to register each death using the command blocks Minecraft PE 1.7 and change the value in the plate using / scoreboard.

Why are there no new items, blocks or mobs in the MCPE 1.7 update?

The 1.7.0 version of the game is mainly aimed at server owners, map builders, as well as fixing a large number of bugs.

Has the issue with healed villagers been fixed?

Yes, now you can trade with them.
download anchor
Minecraft 1.7.0 Download