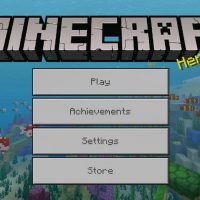 Minecraft PE 1.6.0
Download Minecraft PE 1.6.0
Download
Download Minecraft 1.6.0 full version with working Xbox Live for Android, and meet such a creature as a phantom!
What's new in Minecraft 1.6.0?
Finally, the developers from Mojang have released the first version of the game from Minecraft 1.6. This update brought with it a new creature – the Phantom.
Along with this, there were effects, new types of arrows, a phantom membrane. The developers have not forgotten about the numerous mistakes.
Phantom
As mentioned earlier, this mob appeared in Minecraft 1.6.0. The phantom is extremely aggressive towards the player and always appears at night. But this creature is only a threat to those players who like to sit up at night.
More precisely, phantoms spawn only if the player has not slept for more than three in-game days. Cats can help the player by protecting him from phantoms.
Phantom membrane
This is a rather valuable drop that drops out from a phantom in Minecraft 1.6.0 when it is killed. The phantom membrane can be used to repair elytra or to brew. Also interesting is the fact that tamed cats can also bring this item. But the chance of this is very small – 3.22%.
Slow Fall Potion
Another new item related to the addition of the phantom to Minecraft 1.6.0. With the help of the slow fall potion, you can forget about the fear of heights. The effect received from this potion will completely disable falling damage and also reduce the falling speed.
Thus, you can not only not die when falling but even fly slightly. After making a slow-falling potion in Minecraft 1.6.0, it is recommended to increase its duration almost 3 times using red dust.
Barrier
The only innovation in Minecraft 1.6.0 is not related to phantoms. Barriers can be used to enclose something discreetly. This is especially true for map builders, where players love to go beyond the allowed locations.
How can you fix an elytra with a phantom membrane?

It is necessary to put the elytra and the phantom membrane in the anvil.

How do I get the barrier?

Using the /give @s barrier command.

How to make a slow fall potion?

First you need to make an awkward potion using the hellish growth, and then use the phantom membrane as an ingredient.
download anchor
Minecraft 1.6.0 Download