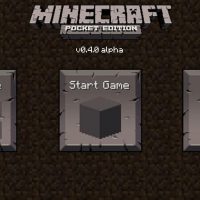 Minecraft PE 0.4.0
Download Minecraft PE 0.4.0
Download
Download Minecraft PE 0.4.0 for Free on Android: use a hoe to create beds and beware of a new dangerous mob.
What is interesting in Minecraft 0.4.0?
Minecraft PE 0.4.0 is a fairly large update in which the developers have significantly diversified the gameplay. Thanks to the appearance of new mobs, objects, and blocks, the cubic world has been transformed and has become even more interesting.
Also, now players will be able to notice that there is a change of day and night. Thus, more realism has been added to the game, but at the same time, there are dangers.
After all, now the hero is waiting for one more danger. Creepers appear in the game, they are dangerous because they can sneak up on a player or a building and explode next to them.
Blocks and items
Developers continue to replenish the variety of working tools that become available to players. The hoe stands out among them. With this object, it is very easy to dig up the ground and make beds.
After that, users can plant seeds in them and get their first harvest. Thus, the players have expanded the possibilities of farming and creating food. Also in Minecraft 0.4.0, the hero can get several types of raw meat.
In order not to get a negative effect, this type of food must be cooked in the oven.
Creeper
In Minecraft PE 0.4.0, one of the most famous mobs of the cubic world appears – the creeper. This unusual creation of green color will not haunt Steve. But this does not mean that the creature is not dangerous, on the contrary.
Creepers silently sneak up on the player and explode next to him. The hero will have only 5 seconds to move away and avoid damage. It is worth noting that users can meet these creatures not only at a night but also during the day. They also do not burn in the sun.
At night, it is better to properly illuminate your building from all sides with torches, so that this creature does not blow it up. The fact is that they will not appear in well-lit places.
What is dangerous for players creeper in Minecraft PE 0.4.0?

He silently sneaks up to the player and explodes next to him.

What new item can players use in MCPE 0.4.0 and for what?

How can users can protect a building from a creeper?

Surround it with torches.