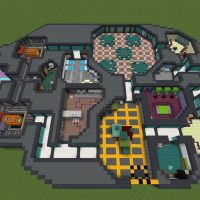 Among Us Map for Minecraft PE
Version MCPE: 1.16.0 - 1.18.2
Download
Download the Among Us map for Minecraft PE: try to find the imposter and stay alive for as long as you can.
Among Us MCPE Map Highlights
Among Us is a multiplayer game released a few years ago but became super popular recently. Users have to find out who the killer is in this game.
Thence it's so exciting and neverending: your tries may last a few minutes or take an hour to finally catch the nasty killer.
Minecraft PE players are keen on Among Us gameplay and thus created a few modifications implementing the core aspects.
You can become either the crew member and survive the flight or the hideous murderer and kill others. Fortunately, there is an outstanding map you'll like for sure.
Gameplay
Among Us MCPE map has a few rules that define its gameplay. First of all, users split into two teams. One group tries to restore the energy, fix the broken, and do other engineering stuff.
The other one consists of only one player trying to stealthily kill everyone else and not get caught during the process.
Simple rules and a big map coincide and form the perfect ground for various intriguing and hilarious situations where someone gets caught red-handed in Minecraft PE.
The tasks for both of the teams are not as easy as you might think. This map is enormous and represents the spaceship from the original game.
It's a good thing for the crew members since you can run away from an imposter and a disadvantage because you'll have to move a lot.
Minecraft PE imposters won't get along with this too. A large Among Us map indeed allows the killers to kill crew members on the other side of the ship.
However, it'll be complicated to catch them since it might take a lot of time to travel across it. Thence this MCPE map is so thrilling to play: it does satisfy the majority.
How do I a crew member in Among Us MCPE Map?

You will be chosen by a random command in the beginning of each game.

What do I do as an imposter?

You must eliminate other users.

Is the map large?

Yes, it is quite a big location.
Download Among Us Map for Minecraft PE