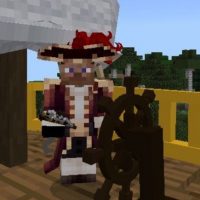 Pirates Mod for Minecraft PE
Version MCPE: 1.16.0 - 1.20.40
Download
Download Pirates Mod for Minecraft PE: embark on a cool journey with dashing pirates!
What is interesting in Pirates Mod?
Pirates Mod is created especially for those who have long dreamed of an interesting adventure in which incredible challenges meet on the path of a hero.
The world of Minecraft PE will be filled with new items: a large pirate ship will swing on the waves, and everyone can see real pirates around it. The hero himself can try on different costumes and, of course, use real pirate weapons.
Only the bravest players will dare to join the pirate gang and possibly lead it.
Mobs
There are several mobs available in Pirates Mod, which by their presence will create the atmosphere of a real pirate adventure in Minecraft PE.
Naturally, these are dashing guys who really like to fight, use weapons and bully each other in every possible way.
In addition to pirates, players can also create a shark, this is a very dangerous mob. It is better to be careful with her.
Items
No real pirate journey can do without the most important thing – a pirate ship. In Pirates Mod, this is a large structure that has all the necessary attributes: a steering wheel and a spacious deck.
Also in this update for Minecraft PE, the developers have taken care of the appearance of the hero himself. There are 3 clothing options: pirate costume, lieutenant, and captain. Users can transform into any image and embark on incredible adventures.
From weapons available to users:
pirate sword;
musket;
arquebus;
sabers.
A wonderful update for all adventure lovers, because there is no time to be bored in the pirate world. Interesting stories always happen with these brave sailors and now every user can become one of them.
Now there are no restrictions for the hero, fun adventures are waiting. Just download this great update and start your own pirate story.
How do I install this mod?

The file is in .mcaddon extension, so just tap on the file to automatically install the modification.

Can this mod be run in a multiplayer game?

Yes, for this it is enough just to be the owner of the card and install this modification on it.

What if the mod doesn't work?

Try to activate the experimental game mode.
Download Pirats Mod for Minecraft PE